Welcome to Alan Madison Productions, the website where professional educators come to acquire award-winning DVD videos for outdoor education. Whether you are looking for videos on hunter education, firearms safety, wilderness survival skills, or water and boating safety, you'll find them all here.
These professionally produced training videos are used by all fifty states and all Canadian provinces, as well as hundreds of schools and universities, police and fire departments, search and rescue squads, fish and game departments, and in innumerable environmental education classrooms. They are not available in stores, but are now available to the general public directly from Alan Madison Productions.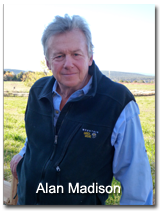 Alan Madison has been in the film/video business for more than 35 years. In that period of time, he has been involved as producer, director and camera man in the production of hundreds of television commercials, dozens of corporate videos and educational films and numerous outdoor series for ESPN television. During this three decade span, his productions have won more than 75 major National and International film festival wards.
He is an avid sportsman, skier, mountain biker, golfer and fly fisherman. He lives with his insanely great wife in upstate New York and Taos, New Mexico.